Ever wondered about the story behind your birthstone? Those beautiful gems associated with each month hold not just a sparkle but a unique significance. At Gemz by Emz, we believe in turning moments into memories, and what better way to do it than with personalised birthstone jewellery? Let's dive into the world of birthstones, their meanings, and why incorporating them into your jewellery can add that extra touch of magic.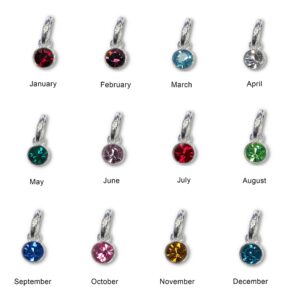 January - Garnet: The Gem of Strength Meaning: Symbolising strength, garnets are believed to bring courage and vitality to the wearer. Perfect for kicking off the year with a burst of energy.
February - Amethyst: The Stone of Sobriety Meaning: Amethyst is associated with clarity of mind and sobriety. It's believed to bring balance and calmness to those who wear it, making it an ideal choice for February birthdays.
March - Aquamarine: The Gem of Serenity Meaning: Aquamarine, with its calming blue hue, represents serenity and is associated with the soothing energies of the ocean. A perfect choice for a March birthday, bringing peace and tranquility.
April - Diamond: The Symbol of Eternal Love Meaning: Often considered a symbol of eternal love, diamonds represent purity and strength. April birthdays are showered with the brilliance and resilience of this timeless gem.
May - Emerald: The Stone of Rebirth Meaning: Associated with renewal and rebirth, emeralds are believed to bring fertility, love, and good fortune. May babies can embrace the lush green symbolism of this exquisite gem.
June - Pearl and Alexandrite: Symbols of Wisdom and Fortune Meaning: Pearls symbolize wisdom gained through experience, while Alexandrite is linked to good fortune and positive change. June birthdays can choose between these two gems, each with its unique charm.
July - Ruby: The Gem of Passion Meaning: Rubies represent passion and love. With its vibrant red hue, this gem is believed to bring good fortune, vitality, and intensity to the wearer.
August - Peridot: The Gem of Strength Meaning: Peridot is associated with strength and healing. Wearing this lime-green gem is believed to promote positive energy and protect against negative vibes.
September - Sapphire: The Stone of Wisdom Meaning: Sapphires are associated with wisdom and royalty. Wearing this gem is said to bring clarity of thought and protect against envy.
October - Opal and Tourmaline: Symbols of Hope and Creativity Meaning: Opals symbolize hope and are associated with creativity, while tourmalines are believed to enhance artistic abilities. October birthdays have a choice between these two inspiring gems.
November - Topaz and Citrine: Gems of Joy and Prosperity Meaning: Topaz is associated with joy and good health, while citrine is linked to prosperity and success. November birthdays can bask in the warm glow of these sunny gems.
December - Turquoise and Blue Topaz: Stones of Friendship Meaning: Turquoise symbolizes friendship and protection, while blue topaz is associated with communication and self-expression. December birthdays can choose between these gems, both known for their calming and communicative properties.
Why Choose Birthstone Jewellery from Gemz by Emz?
Personalised Touch: Incorporating your birthstone into jewellery adds a personal touch, making it uniquely yours.
Sentimental Value: Birthstones are not just pretty gems; they carry deep meanings and sentiments, making them perfect for meaningful gifts.
Versatile Styling: Our heart and circle-shaped pendants and necklaces are designed to complement any style, making them versatile accessories for everyday wear or special occasions.
Customisation Options: At Gemz by Emz, we offer a range of designs and customisation options, allowing you to create a piece that truly reflects your style and personality. All of our birth stone jewellery is available in heart or circle shapes and necklaces or bracelets. They can all be engraved with the photo, text, handwriting, paw print or fingerprint of your choice. You can either engrave your baby's ultrasound with their birth stone added as a special way to remember those cherished moments.
Embrace the magic of birthstones, celebrate the uniqueness of each month, and create timeless memories with Gemz by Emz. Browse our collection today and find the perfect piece to tell your story.