At Gemz By Emz, we are thrilled to unveil our latest collection of gold memorial jewellery. Over the past two years, we have been inundated with requests from our valued customers to launch gold versions of our beloved jewellery pieces. Today, we are delighted to announce that we have heeded your calls and decided to go for it! Allow us to take you on a journey through our exquisite selection of gold memorial jewellery, designed to honour and preserve your cherished memories for a lifetime.
Crafted with Care: Gold Covered Surgical Steel
When it comes to jewellery, we understand the importance of durability, longevity, and quality. That's why all of our gold memorial pieces are meticulously crafted from gold covered surgical steel. This exceptional material ensures that your jewellery will not discolour, tarnish, or react with your skin. You can wear it with confidence, knowing that it will stand the test of time and retain its stunning appearance for years to come. Plus, maintaining its pristine condition is a breeze—simply wipe it clean, and it will continue to shine brightly.
Now, let's dive into the enchanting world of our gold memorial jewellery collection:
Gold Heart and Circle Belcher Chain Bracelet: Express Your Love
Our Gold Heart Belcher Chain Bracelet and circle bracelet is the perfect embodiment of love and remembrance. It features a delicate and intricately designed heart charm on a lustrous gold chain. This timeless piece will serve as a constant reminder of the cherished memories you hold dear.
Gold Heart and Circle Paperclip Bracelet: Unfold Your Memories
The Gold Heart Paperclip Bracelet and circle bracelet combines elegance and sentimentality flawlessly. Each link of the bracelet represents a memory, and as you add more charms, your bracelet becomes an intimate narrative of your most treasured moments. Wear it proudly and let your memories shine through.
Gold Heart Adjustable Necklace: Wear Love Close to Your Heart
Our Gold Heart Adjustable Necklace is a graceful way to carry your loved one's memory wherever you go. With an adjustable chain, this necklace can be customised to the perfect length, allowing you to keep your cherished memories close to your heart at all times.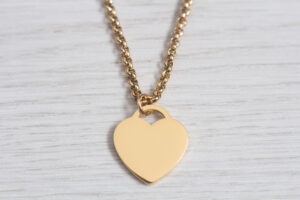 Gold Circle Adjustable Necklace: Embrace Eternal Bonds
The Gold Circle Adjustable Necklace symbolises unending love and unity. Its timeless circular design signifies the eternal nature of our connections with those who have touched our lives. Customise it with your choice of engraving, and let it serve as a beautiful tribute to your special bond.
Gold Memorial Charm Bracelet: Create a Personalised Tribute
Our Gold Memorial Charm Bracelet offers a unique opportunity to create a truly personalised tribute. Fill it with as many engraved charms as you like, each one bearing a precious photo, handwriting, fingerprint, paw print, handprint, footprint, or even a baby ultrasound. This bracelet becomes a wearable mosaic of memories, a testament to the love and moments you hold dear.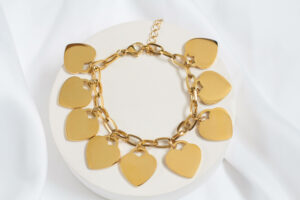 Preserving Memories, Creating Legacies
At Gemz By Emz, we understand the importance of honouring and preserving memories. That's why our gold memorial jewellery allows you to capture the essence of your loved ones and carry them with you wherever you go. Every piece is carefully designed and crafted to reflect the unique bond you shared and to provide solace during times of remembrance.
We are truly excited to share our gold memorial jewellery collection with you. Embrace the beauty and meaning behind these exquisite pieces, and allow them to serve as a source of comfort, strength, and connection. Visit our website or store today and explore the timeless elegance of our gold memorial jewellery.