A wedding day is such an exciting celebration - seeing two people who love each other exchange their vows in front of their friends and family. A wedding can also be a painful reminder of the loved ones who should be there to celebrate but can't be.
Nothing can make up for not having loved ones attend your wedding, however we have some unique and special ways to commemorate them on your big day.
Bridal Bouquet Charms
Bridal Bouquet Charms are one of our bestselling items and can be engraved with the photo of your loved one, a special piece of actual handwriting from one of their cards or notes, their fingerprint or handprint, or even your pet's paw print. These charms will arrive on a blue ribbon which ties around the base of your bridal bouquet and acts as your 'something blue' for your big day. These charms can be engraved on both sides and make a special keepsake to commemorate a loved one when walking down the aisle on your big day.
Groomsmen Charms
Groomsmen Charms are similar to the bridal bouquet charms mentioned above, however these are designed to pin onto the inside pocket of the groom's men suit. These are a subtle yet special way to remember your loved one on your big day and they can be engraved on both sides with your loved one's photo, handwriting, fingerprint, or even your pet's paw print.
Cufflinks
Cufflinks are one of our bestsellers for wedding gifts and they make a wonderful and useful keepsake to wear after the wedding as well. Whether you'd like to have your loved one's photo engraved, a few of their handwritten words from a favourite card or even their actual handprints, we can create this for you. Our cufflinks are surgical steel and hypoallergenic which means they will not discolour, tarnish or react with your skin.
Duo Heart Necklace
Designed to hold the memories of two loved ones close to your heart, our Sterling Silver Duo Necklaces can be engraved with the photos, handwriting or prints of two separate loved ones. Alternatively you can have two memories of the same loved one engraved onto this necklace - whether that is their photo and their name, or even their handwriting and handprint, we can create a meaningful keepsake for you to wear on your wedding day. This Sterling Silver Duo Necklace is available in two chain lengths - 16 inch or 18 inch.
Men's Leather Cuff Bracelet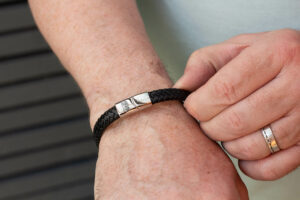 As soon as we restock these men's leather cuff bracelets they sell out again and it's easy to see why - they're such a popular gift for wedding season! Not only are these bracelets made our of leather and stainless steel and designed to last but they're engraved with the photo of your loved one and their name or two words of your choice on the other side. A subtle, stylish yet memorable way for the groom to have his loved ones with him on his big day and thereafter too.
There are many ways to remember and celebrate your loved one's memory on your big day and you can find many more ideas here.
We realised celebrating such a special day without your loved ones physically present can be extremely hard and heartbreaking and that is why we have written lots of blog posts to try and support you through this difficult time. Some of our popular blog posts that you may find helpful are:
UK Charities To Support You Through Grief,
New Relationships Following The Death Of A Partner,
5 Signs It's Time For A Therapy Session
Mental Health And Being Creative
30 Inspirational Quotes About Overcoming Grief
Are There Different Types Of Grief?
7 Ways To Support A Grieving Loved One